by Lunchbox, Pyle of List

Until the Feds leak something more substantial about the specifics behind the NBA ref scandal, I think the topic has been written into the ground. We can only speculate so much. So this is completely unrelated to anything current. This is pure nostalgia today. Let's rank the American Gladiators!

First a nod to the non-Gladiator stars: Mike Adamle was the announcing mainstay for the duration of the show. But he had steady stream of color guys over the years. Larry Csonka and Joe Theismann were the two most well known sidekicks. I hear NBC is talking about relaunching the show. Hmmm, isn't Joe Theismann available?

The real stars were the Gladiators though. With rippling (chemically enhanced?) muscles and red, white and blue leotards, the Gladiators were the ultimate in 90's American decadence. They were a staple of my Saturday morning routine. Here are my rankings of the top Gladiators.

8. Tower: I want to know what this guy looks like now. He was like the Incredible Hulk, except less green, more smile, and a huge wave haircut. In fact, the former Mr. America was so big that he was unable to compete in Sky Track because he couldn't fit in the harnesses. I bet he suffered from a serious case of back-acne...

7. Ice: Ice excelled at Power Ball and Human Cannonball. As far as Lady Gladiators go, she was probably one of the more attractive ones. Now a successful realtor in the San Fernando Valley area of Los Angeles, Ice shows that there is life after bodybuilding and giant hairsprayed 'dos.

6. Lace: One of the original six Gladiators, Lace took the hairspray-headband fashion statement to new heights in the early 90's. Lace was a sharpshooter in Assault and...well, I can't remember much about her besides her enormous hair. She was like a muscle bound troll doll with a tan and a perm.

5. Turbo: I always used to get Turbo and Laser confused...two white muscle bound guys with goofy haircuts. He was a consistent performer though. He blew out his knee at one point and rehabbed until he was able to return 10 months later. Gotta give a guy credit for coming back from a severe knee injury to be a role player on a cable TV game show, right?

4. Zap: Word has it that she was the original Gladiator. She was the first person selected to be a Gladiator in the first season. So she's got that going for her. She showed up in a Playboy spread in 1996...eeeshh. I don't understand the sex appeal of female body builders. This is her website if you want to see what she's doing now.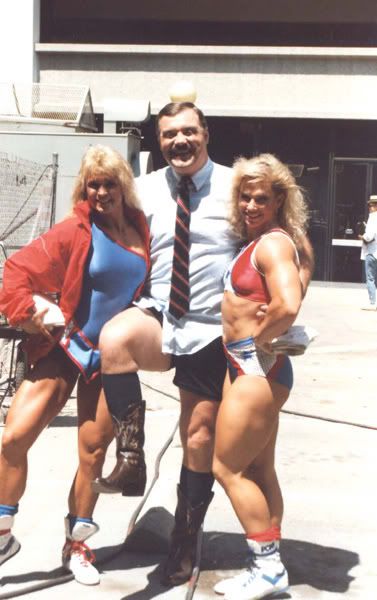 3. Laser: With a college football career to supplement his resume Laser was a natural for the American Gladiators. He was never too flashy, but he was consistent. And when Gemini left the show, Laser took over the team captaincy through the end of the series. In his post AG-life he directed a Hitler movie titled "Seduction of the Will". Good to see he's still paying his bills.

2. Nitro: I feel like Nitro would be many people's number one. He was a pretty good Gladiator, I guess. He was my brother's favorite, so maybe that's why I didn't pick him. Or maybe it was his sleazy hair. Or the way he cheated. Or his lame sneer as he tried to show how BA he was... Anyway, he also tried his hand at announcing during AG's final season and had a microscopic movie career. He's also writing a book titled, "American Gladiator: A True Story of 'Roids, Rage, and Redemption". So, basically, he's the Jose Canseco of game shows.

1. Gemini: My all-time favorite Gladiator. He was a bad ass with a heart of gold. His neck was like a tree trunk. He was the Gladiator team captain during his tenure and dominated most of the events he competed in. I hear that now he's a Hollywood stunt man.

(Photo: A little behind the scenes action with Ice, Csonka, and Gold.)