by DCScrap, Editor


So where do we go this week? Stick with the NBA? Go back to the college ranks? Hmmm... Hey, it's the holiday season so let's see what some cheerleaders do to celebrate the holidays. Sound good? I thought so too.

But where should we go? Indy? Nah. They get enough pub. Washington? They need a break. Let's stay in that area though and visit with the Baltimore Ravens' ladies. They probably need something to cheer about after Monday night.

The first sideline siren we'd like you to meet is Lindi J. Lindi is 5'3", was born in Columbia, Maryland, and currently lives in Pasadena, Maryland. This is her second year on the squad. She is also a student at Towson State. Go Tigers! Rowr!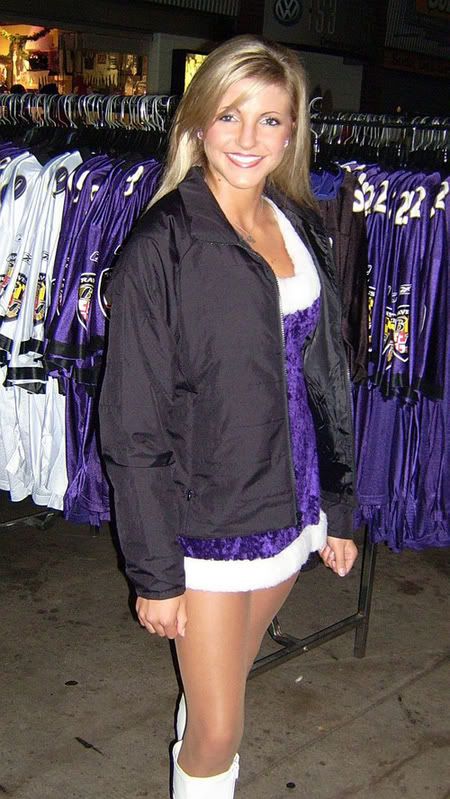 The next lovely lady we'd like to introduce is Crystal B. Crystal is 5'8" (wow, a biggun!), was born in B-more (homegirl!), and now resides in Pasadena, Maryland (hey, you and Lindi can carpool!). This is her sixth year as a Ravens cheerleader and she was voted to be this year's Ravens cheerleader to represent the team at the Pro Bowl! Awesome job, Crystal!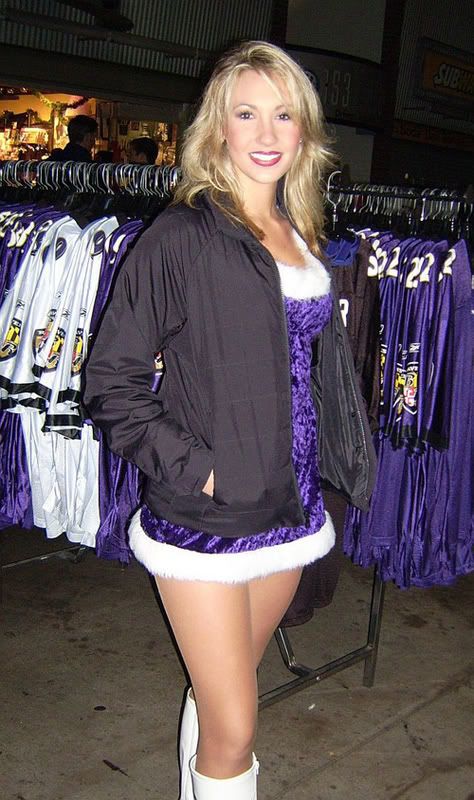 And here they are side-by-side at the Ravens Team Store at M&T Band Stadium celebrating the holidays and spreading goodwill. Happy Holidays indeed!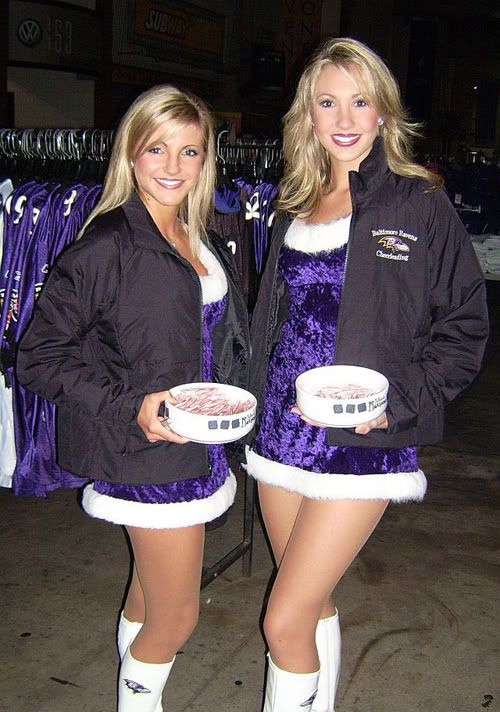 You can also watch a video of Lindi here and a video of Crystal here. Merry Christmas to us all!

We hope you enjoyed this week's look at a couple of this country's finest athletes and entertainers. Be sure to check back next week when we profile yet another one of America's sweethearts of the sidelines.

P.S. The Ravens also have something called The Playmakers (no word on Michael Irvin's involvment). I don't know if this is different from their regular cheerleading squad, but I do know that this group frequents happy hours at local bars so I like them already.

Baltimore Ravens