by DCScrap, Editor


Okay. We are running out of suitable contenders here. Athena Barber is that unstoppable. She dispatched with another contender, the extremely sexy Adriana Karembeu, without a hitch, to move to 5-0.

So, what to do... what to do... I know. Let's do the same thing that took down our last champion, Ingrid Vandebosch. Pit the champ up against another NASCAR WAG.

Introducing the wife of NASCAR driver Adrian Fernandez, Catalina Maya. While she may be new to the NASCAR scene, there is no disputing her credentials for being in this contest. Get your motor runnin' folks and vote.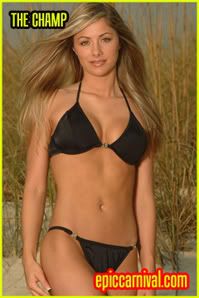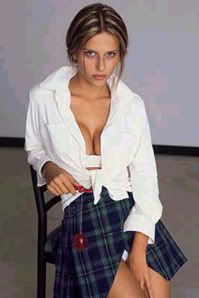 POLL CLOSED

Comments removed by request of Athena Barber.

She and Clint are no longer together.

A new Hot Sports Wife/Girlfriend champion

will be determined shortly.

CLICK HERE TO VOTE ON THE NEWEST TITLE DEFENSE.



Previous title defenses:
(C) Athena Barber def. Adriana Karembeu 71% to 29% (KO).
(C) Athena Barber def. Eliza Dushku 70% to 30% (KO).
(C) Athena Barber def. Adriana Lima 55% to 45% (TKO).
(C) Athena Barber def. Ashley Manning 87% to 13% (KO).
Athena Barber def. (C) Ingrid Vandebosch (9-1, 8 KO) 59% to 41% (TKO).
(C) Ingrid Vandebosch def. Sophia Bush 61% to 39% (TKO).
(C) Ingrid Vandebosch def. Patricia Mikula 75% to 25% (KO).
(C) Ingrid Vandebosch def. Christy Cooley 60% to 40% (TKO).

TOURNAMENT RESULTS:
1) Ingrid Vandebosch (Jeff Gordon) THE HOTTEST!
2) Gisele Bundchen (Tom Brady) [TKO] Semis: #17 C. DeCesare 69% to 31%
3) Elin Nordegren (Tiger Woods) [KO] Rd. 3: #19 J. Walcott 73% to 27%
4) Ashley Judd (Dario Franchitti) [TKO] Rd. 2: #27 C. Tweedy 65% to 35%
5) Willa Ford (Mike Modano) [TKO] Semis: #16 E. Cuthbert 55% to 45%
6) Lisa Dergan (Scott Podsednik) [TKO] Rd. 3: #17 C. DeCesare 61% to 39%
7) Jodi Ann Paterson (Michael Andretti) [TKO] Rd. 2: #21 G. Atkinson 59% to 41%
8) Kim Kardashian (Reggie Bush) [TKO] Rd. 1: #41 C. Zucker 56% to 44%
9) Alicia Rickter (Mike Piazza) [TKO] Rd. 2: #19 J. Walcott 68% to 32%
10) Julia Tomko (Brett) [DEC] Rd. 2: #18 L. Cover 53% to 47%
11) Jennifer Scholle (James Blake) [DEC] Rd. 2: #17 C. DeCesare 51% to 49%
12) Carrie Underwood (Tony Romo) [TKO] Rd. 2: #16 E. Cuthbert 69% to 31%
13) Abigail Clancy (Peter Crouch) [TKO] Rd. 1: #36 L. Posada 59% to 41%
14) Bec Cartwright (Lleyton Hewitt) [KO] Rd. 3: #16 E. Cuthbert 80% to 20%
15) Eva Longoria (Tony Parker) [DEC] Rd. 2: #14 B. Cartwright 51% to 49%
16) Elisha Cuthbert (Sean Avery) [TKO] Finals: #1 I. Vandebosch 61% to 14%
17) Carmella DeCesare (Jeff Garcia) [TKO] Finals: #1 I. Vandebosch 61% to 25%
18) Laura Cover (Aaron Boone) [TKO] Rd. 3: #5 W. Ford 66% to 34%
19) Jennifer Walcott (Adam Archuleta) [DEC] Semis: #1 I. Vandebosch 51 to 49%
20) Tamia Hill (Grant) [KO] Rd. 1: #29 A. Benson 78% to 22%
21) Gemma Atkinson (Cristiano Ronaldo) [TKO] Rd. 3: #2 G. Bundchen 55% to 45%
22) Victoria Beckham (David) [DEC] Rd. 1: #27 C. Tweedy 54% to 46%
23) Aleka Kamila (Peja Stojakovic) [TKO] Rd. 2: #6 L. Dergan 66% to 34%
24) Angie Harmon (Jason Sehorn) [TKO] Rd. 1: #25 C. Cameron 59% to 41%
25) Candace Cameron (Valeri Bure) [KO] Rd. 2: #5 W. Ford 71% to 29%
26) Melanie Slade (Theo Walcott) [DEC] Rd. 1: #23 A. Kamila 52% to 48%
27) Cheryl Tweedy (Ashley Cole) [TKO] Rd. 3: #1 I. Vandebosch 57% to 43%
28) Pilar Sanders (Deion) [KO] Rd. 1: #21 D. Gamba 89% to 11%
29) Anna Benson (Kris) [KO] Rd. 2: #3 E. Nordegren 82 to 18%
30) Amy Mickelson (Phil) [KO] Rd. 1: #19 J. Walcott 82% to 18%
31) Danielle Lloyd (Teddy Sheringham) [DEC] Rd. 1: #18 L. Cover 51% to 49%
32) Lisa Guerrero (Scott Erickson) [KO] Rd. 1: #17 C. DeCesare 78% to 22%
33) Heather Mitts (A.J. Feeley) [KO] Rd. 1: #16 E. Cuthbert 80% to 20%
34) Yeliz Okur (Mehmet) [KO] Rd. 1: #15 E. Longoria 75% to 25%
35) Vanessa Bryant (Kobe) [DEC] Rd. 1: #14 B. Cartwright 52% to 48%
36) Laura Posada (Jorge) [TKO] Rd. 2: #2 G. Bundchen 65% to 35%
37) Millie De La Hoya (Oscar) [TKO] Rd. 1: #12 C. Underwood 68% to 32%
38) Heather Dickau (Dan) [TKO] Rd. 1: #11 J. Scholle 62% to 38%
39) Gabrielle Reece (Laird Hamilton) [KO] Rd. 1: #10 J. Tomko 71% to 29%
40) Melissa Lima (Jose) [TKO] Rd. 1: #9 A. Rickter 59% to 41%
41) Carly Zucker (Joe Cole) [KO] Rd. 2: #1 I. Vandebosch 77% to 23%
42) Pamela Anderson (David Binn) [KO] Rd. 1: #7 J. Paterson 70% to 30%
43) Sonya Toms (David) [KO] Rd. 1: #6 L. Dergan 84% to 16%
44) Cynthia Rodriguez (Alex) [KO] Rd. 1: #5 W. Ford 87% to 13%
45) Jenna Jameson (Tito Ortiz) [TKO] Rd. 1: #4 A. Judd 62% to 38%
46) Bridgette Wilson (Pete Sampras) [KO] Rd. 1: #3 E. Nordegren 72% to 28%
47) Jennie Finch (Casey Daigle) [TKO] Rd. 1: #2 G. Bundchen 58% to 42%
48) Elisabeth Hasselbeck (Tim) [KO] Rd. 1: #1 I. Vandebosch 70% to 30%

(Hint: If you want to see more of them, click on their link above or do a Google search on them. Fair warning though, some of these women's Google searches will be NSFW.)